The Printing Press Bar and Restaurant has become a firm favourite of Hidden Edinburgh's ever since it opened back in 2015 and almost always features somewhere in our Friday night drinks plans. In those two short years since it opened it has become an integral part of the New Town food and drink scene and one of the few hotels in the city that has managed to created a destination bar and restaurant that locals love, a difficult challenge for any hotel to achieve!
With an updated All Day Dining menu available and a refresh to the wine options Hidden Edinburgh were kindly asked along for lunch to see what's new at the Printing Press!
Background & Concept
If you are not familiar The Printing Press is the food and drink offering of The Principal Edinburgh George Street (Formerly The George Hotel) on George Street. The hotel is made up from a series of original townhouses and the Printing Press was Number 25, home in the 1780s to the acclaimed novelist Susan Ferrier, the equal of Jane Austen according to Sir Walter Scott.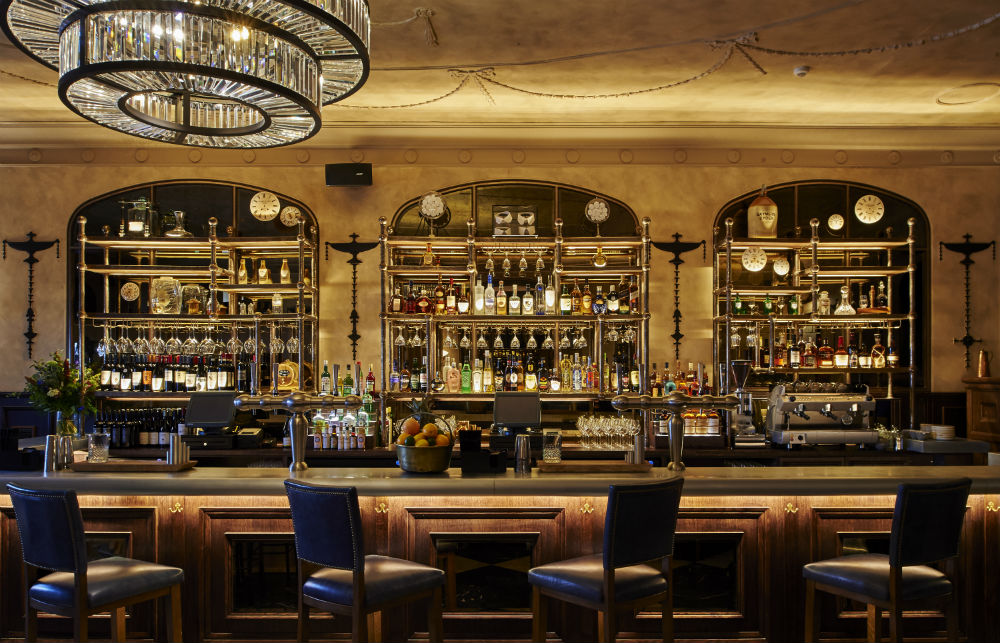 Enter the Printing Press through a revolving door off George Street into the bar with the restaurant beyond that. The space has a touch of old world Parisian to it, with grand chandeliers, ornate plaster work, brass and leather finishes and marble top bar surfaces.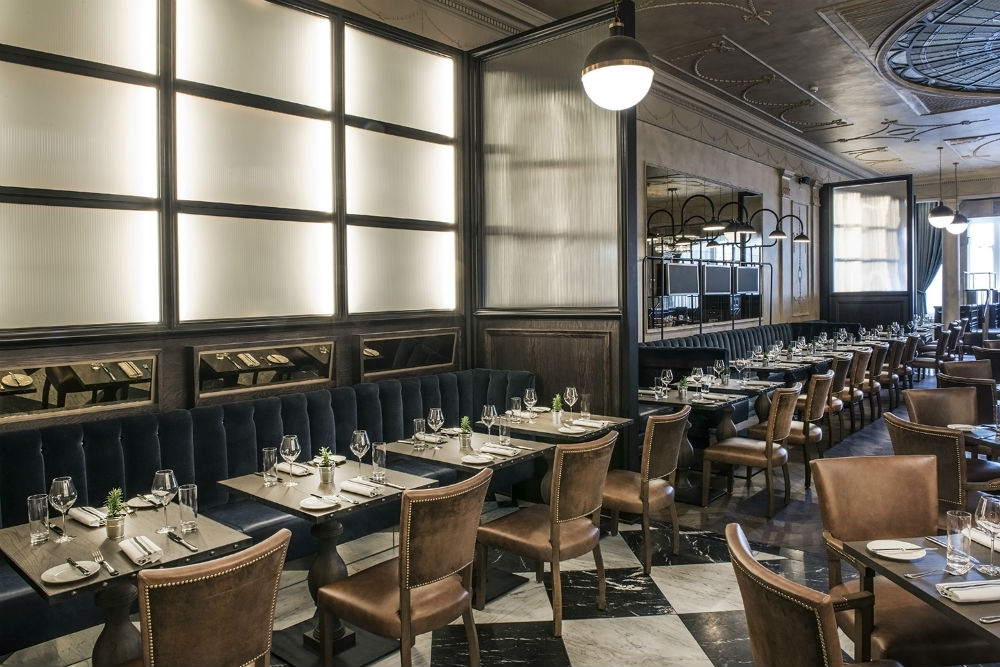 Menu
The menu is curated by head chef Colin Fleming who has been part of the Scottish restaurant scene for 17 year working with big names like Nick Nairn and Martin Wishart. Colin has worked at some of the country's best restaurants including The Road Hole restaurant at The Old Course Hotel in St Andrews, Restaurant Martin Wishart in Edinburgh and the Kailyard Restaurant by Nick Nairn in Dunblane so you know you are in for a treat with this menu!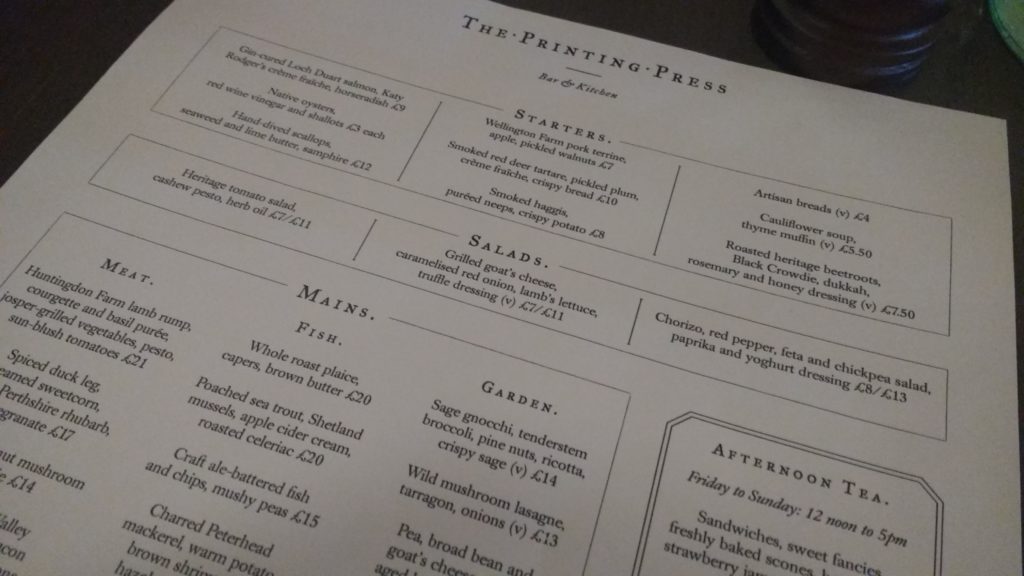 There are  a range of dining options available with the main offering being the All Day Dining menu which makes full use of Scotland's rich larder! This means that the dishes have a strong focus on game, as well as fish and local meat.
If you like a roast there is also a Sunday Roast served with gravy and all the trimmings, followed by a fruit crumble to share. If you are in a hurry there is an Express menu which runs 12-7pm midweek and is excellent value at £15.95 for two courses and £19.95 for three courses.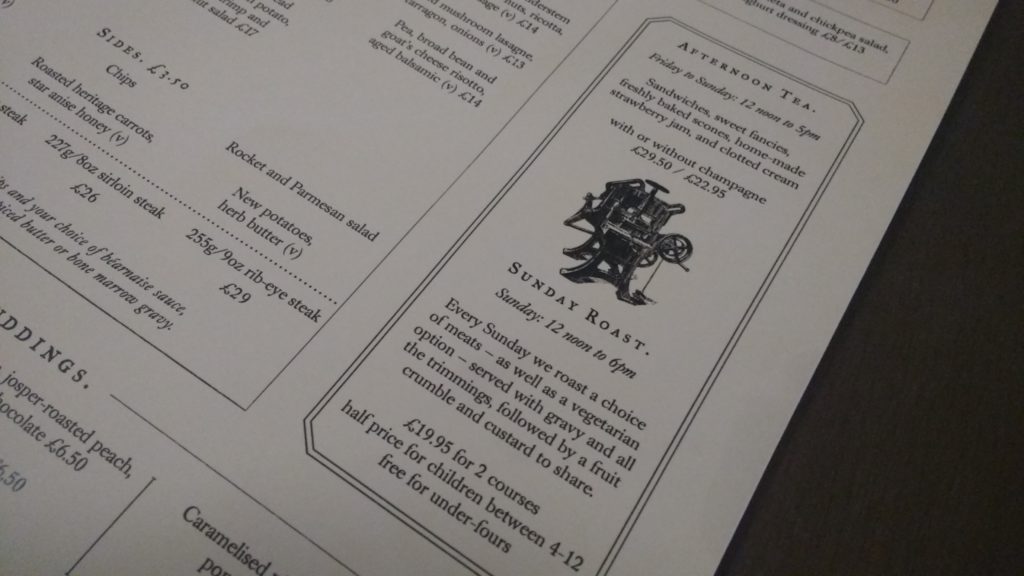 The Printing Press has a firm stance on using products that are local and seasonal which is evident in the menu options. Scotland has some of the best produce in there world and it is good to see it celebrated in the menu.
For starters choose from options like Loch Duart Salmon, Scottish Oysters, Wellington Farm Pork and Smoked Red Deer. Mains like the starters have a fish, game and red meat focus, some highlights include Huntingdon Farm lamb rump, Roast Plaice, poached Sea Trout and Peterhead Mackerel. If like me you like a steak you will be pleased to hear they have a whole section dedicated to this great dish. It's worth mentioning that food is cooked on a Josper Grill which gives it a wonderful charcoal finish. I am glad to see that vegetarians have been given a look in with the new menu which includes 3 vegetarian options now which is great!
You can see all the menu's here
Wine
I have enjoyed the range of wines on the old menu but was looking for a change so a refresh to the wine options was more than welcome! Prices seem to have crept up slightly for glasses, but with bottles starting at £20 and six bottles of white under £30 and three red under £30 it still offers value for money.
For lunch wee had a bottle of La Picoutine Ugni Blanc Colombard which is the their house wine and an excellent wine that's great value for money. It's from the Languedoc region in France, a good all-rounder that matches well with most dishes so would def recommend it. I would also recommend the La Serre Chardonnay and The Spee'wah Pinot Grigio both great whites!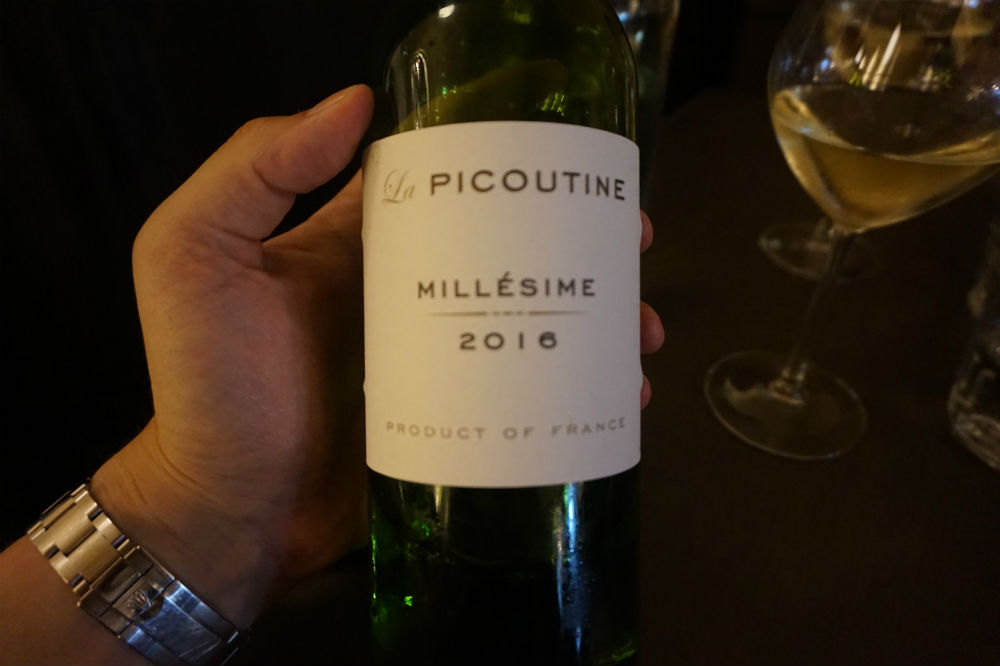 What We Ate
So what did we eat you ask! Well for starters, we went for fish options, I choose the Scallops, a simple dish, cooked to perfection, with a light lime butter that adds depth to the Scallop flavour and an extra element of texture is created with the Samphire bed the Scallops sit on in the shell, the Scallops were wonderful! My dining partner went for the Gin-cured Loch Duart salmon, Katy Rodger's crème fraîche, horseradish. Arrange in a ring shape, the Salmon is cubed and drizzled with oil and sitting on crème fraîche.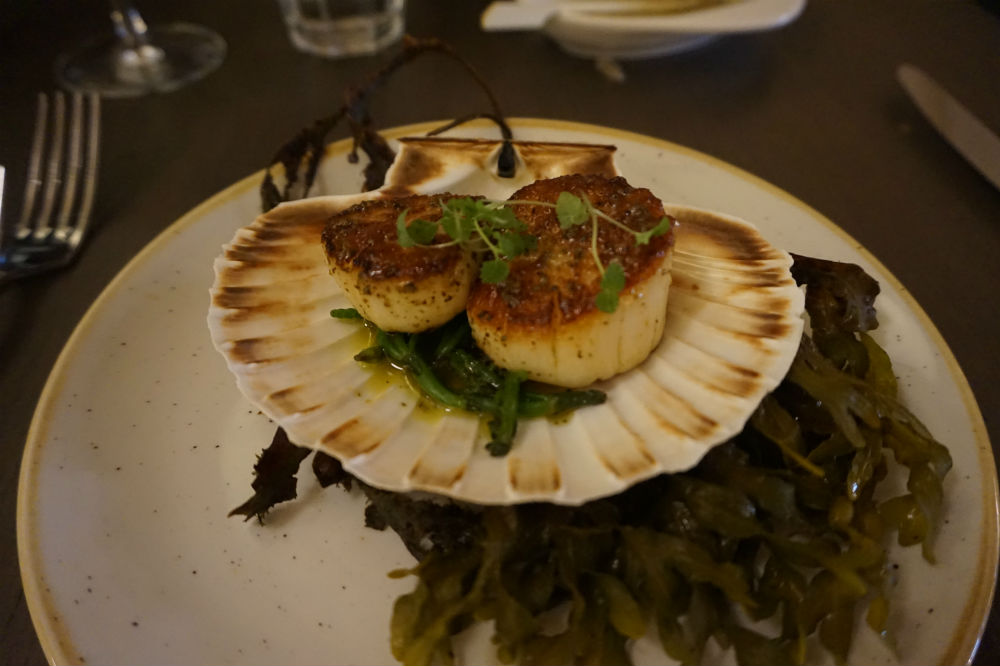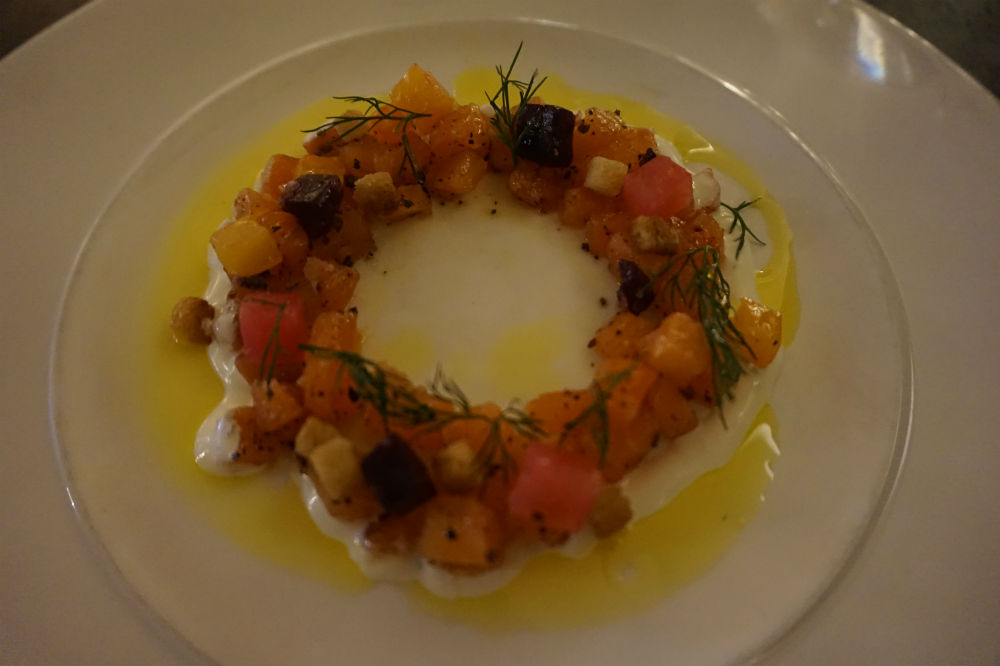 For mains, my eyes went straight to the Steak options, which comes in Hanger, Sirloin or Ribeye. An easy choice for me to make, a Sirloin, medium rare, with peppercorn sauce! Steaks are a generous size at 8oz, served with a good side of chips and some grilled tomatoes.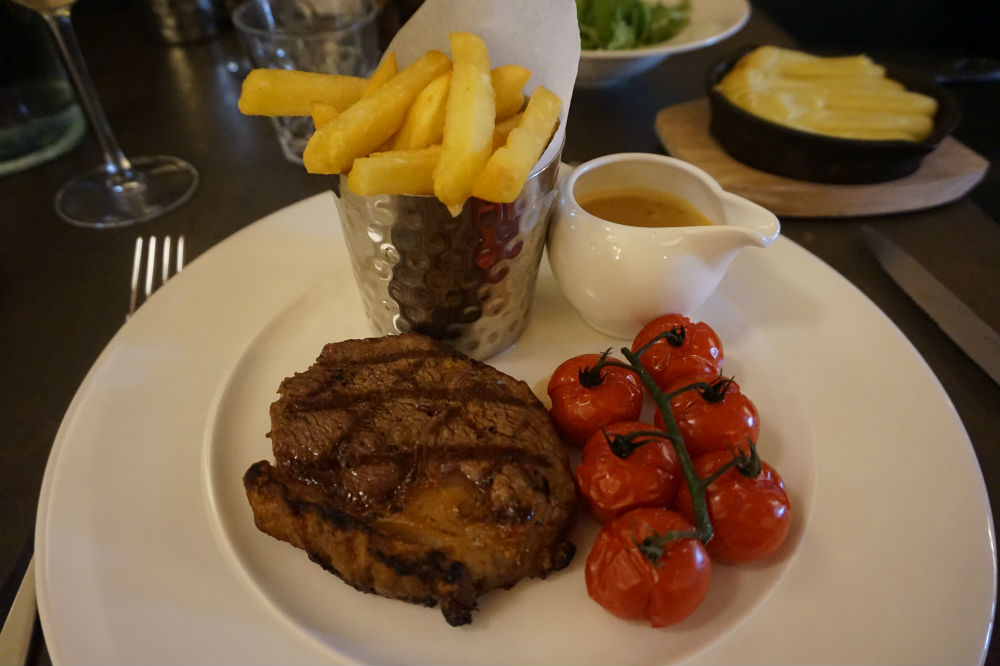 My dining partner went for the Spiced duck leg with creamed sweetcorn, pickled Perthshire rhubarb and pomegranate. The plate was clean, need I say more!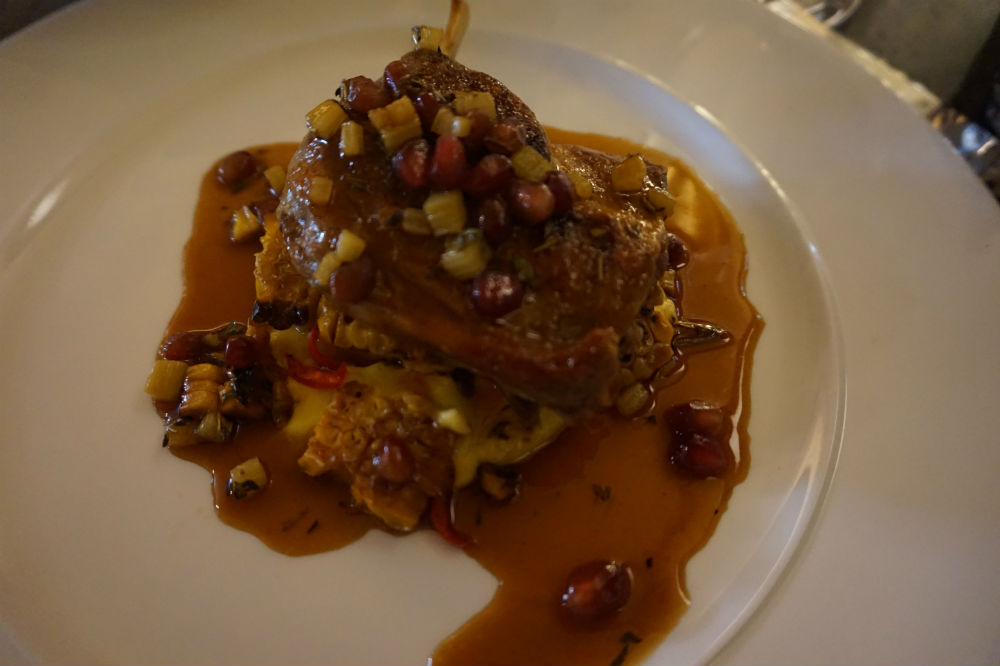 For dessert I am so predictable, I went for cheese. A healthy portion is served, not the most adventurous cheeses (cheddar, Stilton and goats cheese) and could have done with a little longer at room temperature. We also had a Baked custard tart with rhubarb ginger beer and compressed strawberries, which worked well together.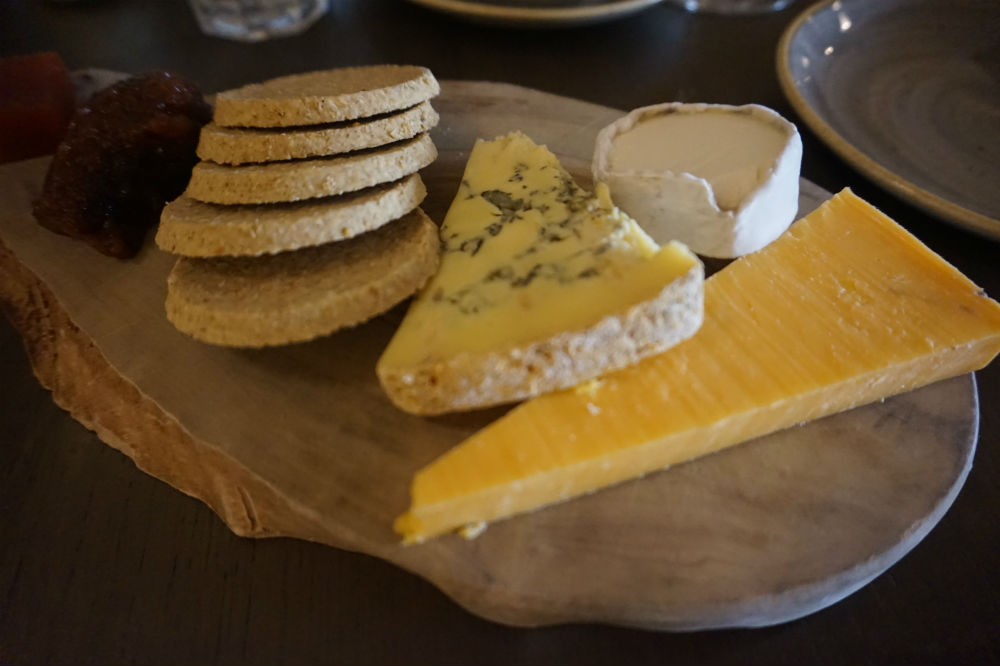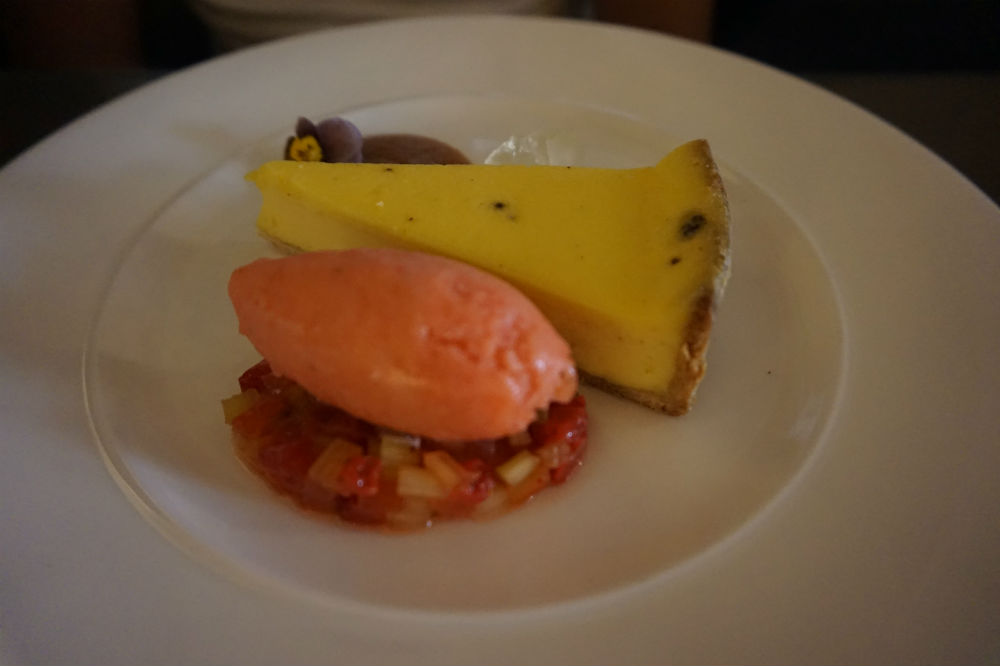 Final Details
I was already a fan of the Printing Press and my lunch just reaffirmed why I love it. It's good quality food, prices are in line with the quality of the food, staff are friendly and there is a nice buzz to the place if you haven't tried it yet, now is the time to go!
Address: 21-25 George St, Edinburgh EH2 2PB
Web: printingpressedinburgh.co.uk