2017 has been quite a foodie year in the city with new restaurants and bars galore. Keep up to date with new openings on this page of Hidden Edinburgh
Got a city tip, join our group and share it! www.facebook.com/groups/114443535869277/
Fazenda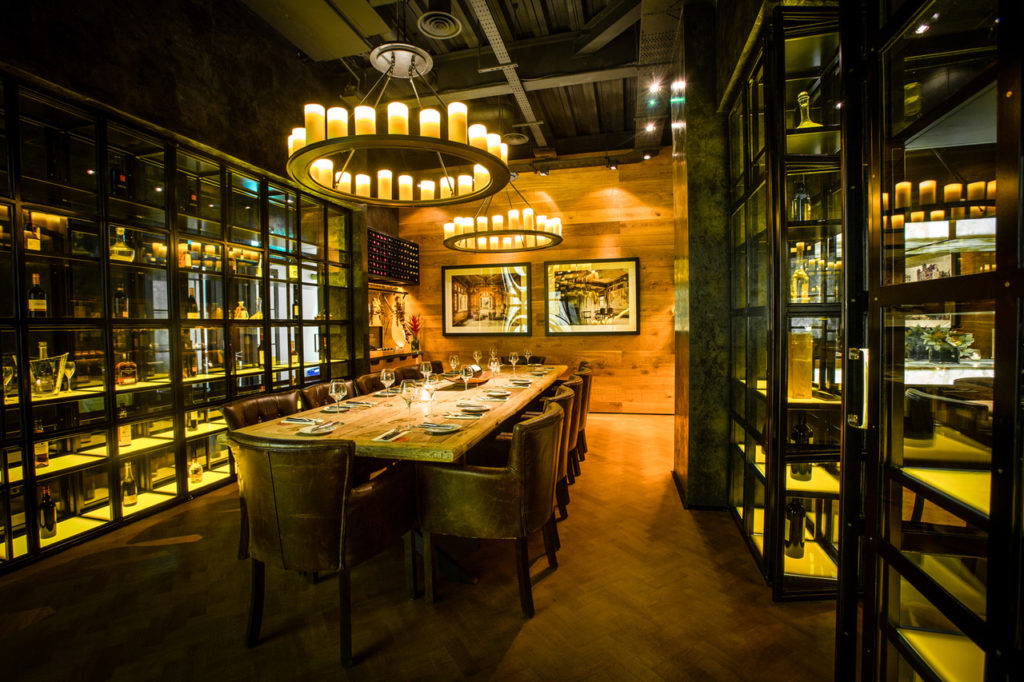 Opening 23rd Feb!
Fazenda Bar & Grill, have announced they will open their Edinburgh doors on Friday 23rd February. A £2m refurbishment of the 7000 sq ft site on George Street will include 175 covers incorporating a bar of 40 covers, plus a private dining room with seating for 8 guests. The interiors feature banquette seating in tan leather upholstery with Brazilian flourishes reflected in the golden glow of traditional-style chandeliers. Wine is prominently displayed throughout restaurant, with dramatic displays forming a central theme.
The authentic gaúcho dining experience embraces rodizio, a unique Brazilian way of serving a variety of grilled meats carved at the table. For a set price, successions of prime cuts are served including chicken, lamb, pork and beef. A highlight is Fazenda's signature picanha offering- a juicy, tender and flavourful cut from the cap of the rump, popular in Brazil. Fazenda ensures the experience is easy and enjoyable by allowing diners to eat at their own pace via a start/stop signalling system on every table.
Web: www.fazenda.co.uk
Kin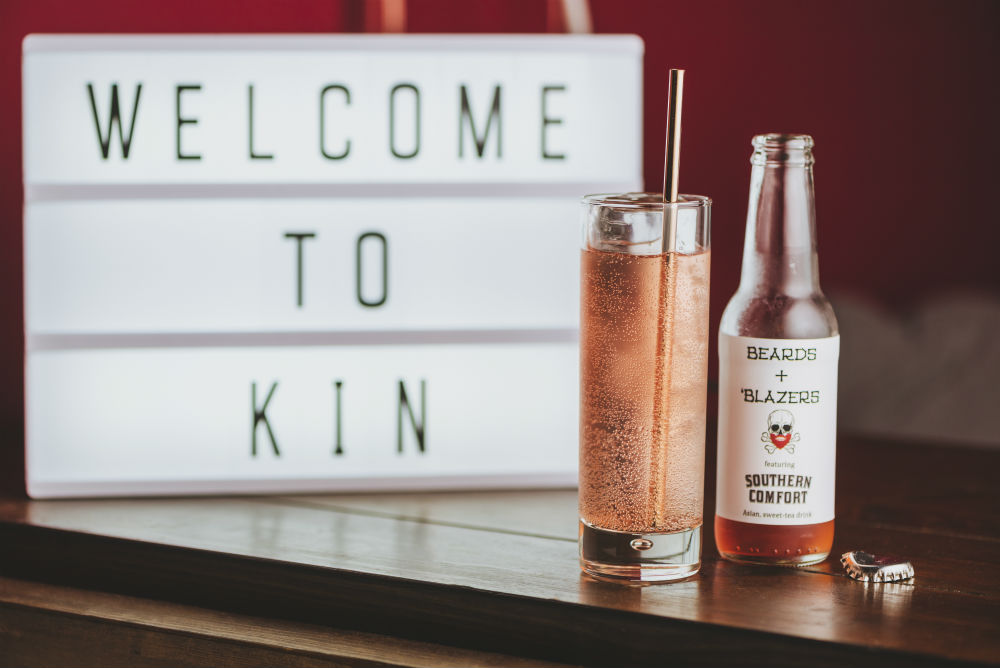 Edinburgh's cocktail culture has a new addition with the opening of KIN, a cocktail bar and eatery at number 1 Barony Street. A cosy basement bar, KIN promises a warm welcome, delicious drinks and seasonable nibbles, Wednesday to Sunday, four till one.
KIN is the first project of Edinburgh industry stalwarts Jody Buchan and Sam Baxendale with their company Buch + Bax. Jody and Sam wanted to open a bar that not only encapsulated their passion for quality food and drink, but also captured the warm hospitality they have experienced during their careers in Edinburgh.
With a background in chemical engineering and architecture respectively, Jody Buchan and Sam Baxendale discovered their love of cocktails in Edinburgh. Jody began his hospitality career as a ambassador for AquaRiva Tequila and Rock Rose Gin, before developing his bartending skills at West End concept bar The Voyage of Buck. During his time behind the bar he has been recognised with a number of awards, including 1st place at the Diplomatico Scotland competition, and the UK Kraken competition.
Web: www.facebook.com/kin.edinburgh.bar/
White Horse – Oysters and Seafood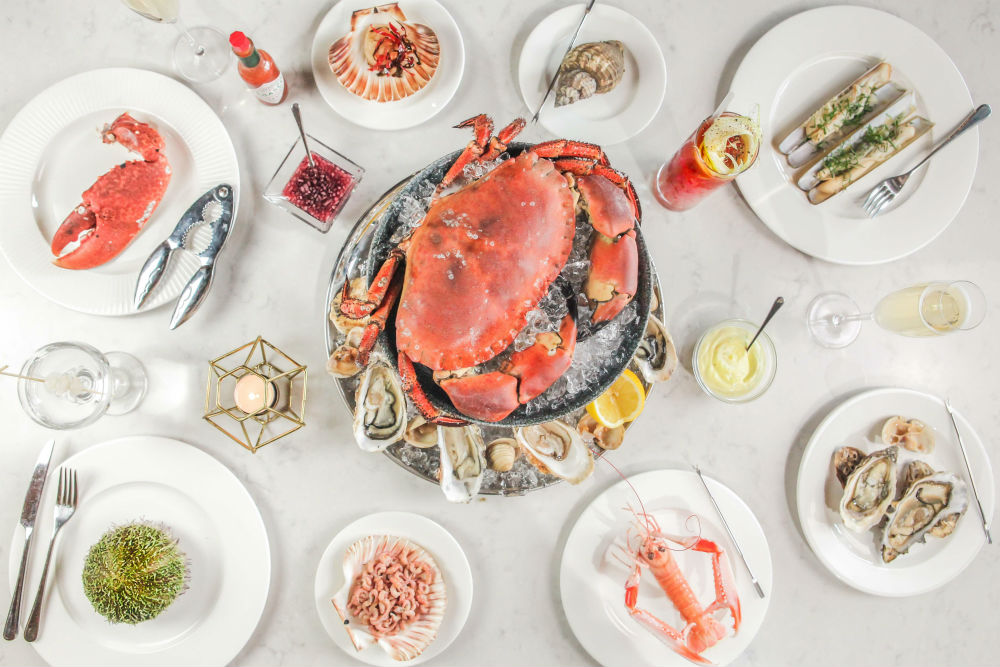 This November sees a new addition to the Edinburgh restaurant market as the team behind Chop House Bar & Butchery launch their latest venture in Edinburgh's Old Town.
White Horse Oyster & Seafood Bar will open seven days a week on the site of the oldest inn on the Royal Mile, offering a dining experience focused on fresh seafood and shellfish. Boasting a custom-designed lobster tank, this new restaurant is committed to placing the highest quality seafood at the core of the business.
Sharing platters of shellfish including lobsters, scallops and crab will form a key part of the offering and a range of oysters from across the UK will be available, shucked on the bar in full view of the customers.
The menu is designed to showcase the best of British shellfish and seafood in a collection of dishes to be shared by the whole table. Seafood platters and small plates allow tables to feast on a wide range of seafood. In addition, a selection of stand-alone dishes like monkfish curry, lobster and fries and whole lemon sole will be available.
The complete refurbishment of the building on Edinburgh's historic Royal Mile will create an intimate dining room, with additional covers housed in luxurious booth seating looking onto the lobster tank and further seating available within the bar area.
The interiors will feature a rich heritage colourway with a number of notable design features, such as the custom-made green marble bar top where customers will be able to enjoy fresh oysters and cocktails alongside an all-day menu of small dishes such as crab fries and sesame tuna.
White Horse Oyster & Seafood Bar will open 7 days a week for lunch and dinner, with the bar trading until late.
Web: www.whitehorseoysterbar.co.uk
Baba
Doors are now open at BABA. The new restaurant from the award-winning team behind Ox and Finch in partnership with restaurant and bar visionaries Katherine Arnold and Robbie Bargh, is set to make its mark by bringing an inimitable menu of Levantine mezze dining to Edinburgh as it opens on 130 George Street today.
BABA – which occupies a corner of the newly renovated Principal Edinburgh Charlotte Square – is plating up a menu of bold Levantine cooking, bringing a fresh offering to Edinburgh's flourishing restaurant and bar scene.
The BABA food menu brings traditional recipes to life by using delicious twists and the fresh local ingredients. Kebabs will be served alongside the team's garlic tahini, harissa, zhug, and pittas and include the lamb shawarma (£14); baharat beef kofta (£10); chicken shawarma (£12) and butternut and whipped feta kebab (£9). Foodies looking for a Scottish twist won't be disappointed, with dishes such as the haggis and harissa kibbeh (£2.75). Seafood fans are equally catered for with a selection of dishes from squid, merquez sausage and salmorejo (£9.50) to monkfish, chickpeas, tomato, saffron, parsley and feta (£12).
Web: baba.restaurant
Boston and Hawthorn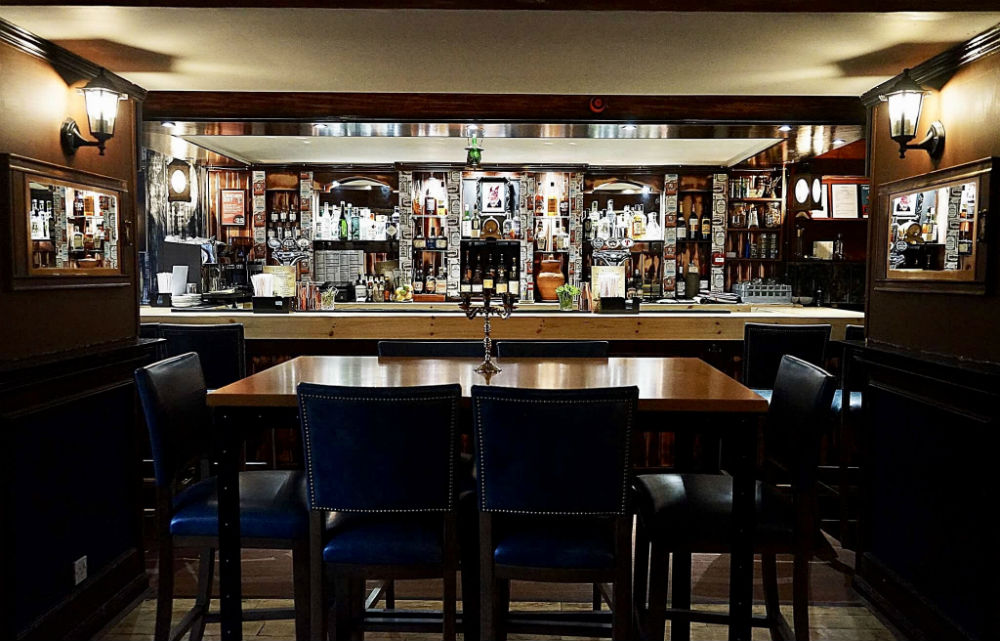 Boston & Hawthorne on Dean Street is the newest addition to Stockbridge restaurant and Bar scene, which boasts the first UK curiosities & oddities museum style bar.
Once the Raeburn Bar, the creators behind Thunder Road Emporium have transformed the old pub into a family friendly eatery and bar. They have designed the first ever kitchen in 100 years and introduced a family sharing style of menu, such as there Sunday Roast Boards, Italian infused sharing nibbles, wild boar pizzas and the first Etruscan style Banquets (700bc) served with mead and wine!
The bar boasts a range of wine, meads, beers, cocktails and spirits exclusive to the company from Thunder Road Emporium, such as there famous Parmatini using gin, cantaloupe melon liqueur and Parma ham, also rice punch martinis and cold press tea liqueurs that take the drinks list to the next level of imbibing.
With the full support of the transformation from Edinburgh council, Boston & Hawthorne are creating a child friendly place with some engaging oddities to peruse on arrival they welcome you to have a cocktail unique experience up the cobbled streets of Stockbridge.
Web: www.facebook.com/BostonHawthorne/
Black Ivy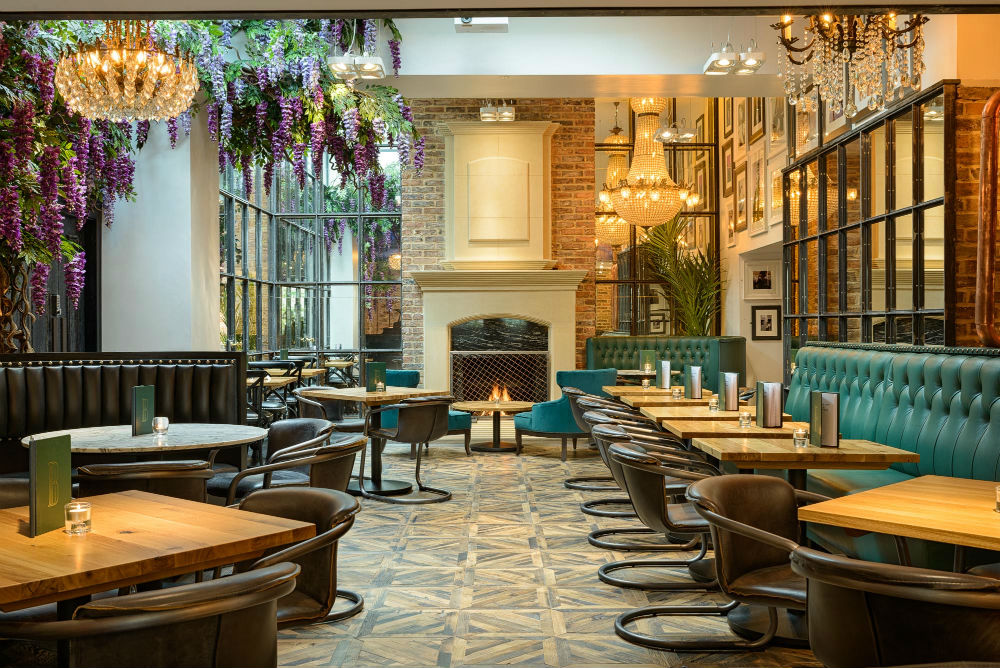 Black Ivy sits on the site formerly known as The Links Hotel and is home to 2 bars with fresh tank beer, 22 guestrooms, ping pong room and a stylish heated outdoor terrace with fire pits. The venue, and the name, have been inspired by a desire to create a premium neighbourhood bar rooted in the leafy, park location but also informed by stylish, forward thinking venues in London, Brooklyn and beyond.
Throughout the venue runs an ethos of 'local luxury for all' and Billy's team will be on a mission to create amazing experiences for both Bruntsfield residents and visitors to the area. Fresh Innis & Gunn tank beer will be poured in the Drafthouse bar, marshmallows will be toasted over fire pits on the Terrace, scores will be settled over games of table tennis while delicious sharing boards and luxury comfort food will be washed down with unique cocktails in the Drafthouse bar, the Taproom or the Conservatory.
Alongside seasonal food menus, seven-day brunch and bespoke drinks, Black Ivy will host a range of innovative events and showcase local musicians. Following much anticipation, Black Ivy will officially open its doors on Wednesday 8th November
Web: weareblackivy.com
east Pizzas
east PIZZAS is is a new restaurtant in Leith. Focused on thoughtfully sourced food, the restaurant uses many local suppliers to showcase the best produce the east coast of Scotland has to offer. Roly (who also runs the bespoke catering business Toasted Radish) and Rob are the founding owners of east PIZZAS. They are passionate about using thoughtfully sourced food to create high-quality pizzas. The pizza dough for example will be made in-house daily, whilst the menu will change regularly to echo the seasons.
Roly and Rob said their 'thoughtfully sourced' ethos ensures the highest possible quality whilst also supporting local suppliers. For east PIZZAS thoughtfully sourced food is seasonal and sustainable. Wherever possible they source food within thirty miles of their Leith location, and their meat and vegetables are organic.
Web: www.eastpizzas.com
Trenchtown – Caribbean Social Club
Trenchtown, a self-styled Caribbean Social Club, has opened its first restaurant and bar in Tollcross. The premises, which was formally the old Mr Boni's ice cream shop, was massively renovated this summer and was finally completed in the middle of August. Serving an authentic menu of Bone Jerk Chicken, Curry Goat, Trinidadian Doubles, and Sweetcorn Fritters, the food really takes centre stage at Trenchtown.
The restaurant itself provides a vibrant backdrop with ornate tiles and brightly coloured booths, as well as a swinging seat that hangs from the ceiling and a wall made entirely of oil drums. Throughout the day and night, a steady playlist of reggae, dancehall, and hip-hop flows through the speakers, creating a fun and friendly environment.
Read our review of Trenchtown Social Club
The Ivy on the Square
The Ivy on the Square is now open. Situated in the heart of Edinburgh's city centre, offering approachable sophistication and luxury with an underlying feeling of glamour and theatre for local residents, businesses and visitors.
Open seven days a week, The Ivy on the Square features a vibrant restaurant space with approximately 130 seats, alongside a bar and striking mezzanine terrace in a new development overlooking Edinburgh's historic St Andrew Square. The brasserie offer all-day dining and an extensive cocktail list, in a relaxed yet sophisticated setting. Reflecting The Ivy Collection's dedication to local restaurants for local diners, the restaurant will hold back a number of tables throughout the day and evening, allowing walk-ins to experience a taste of The Ivy magic in the heart of Edinburgh.
The Ivy on the Square's brasserie style menu offers something for all kinds of occasions, serving breakfast, elevenses, weekend brunch, lunch, afternoon tea, light snacks, cocktails and dinner. The kitchen is overseen by Executive Chef Sean Burbidge, whilst the restaurant's affordable menus incorporates an eclectic mix of British ingredients, comforting Ivy classics and international dishes.
Toast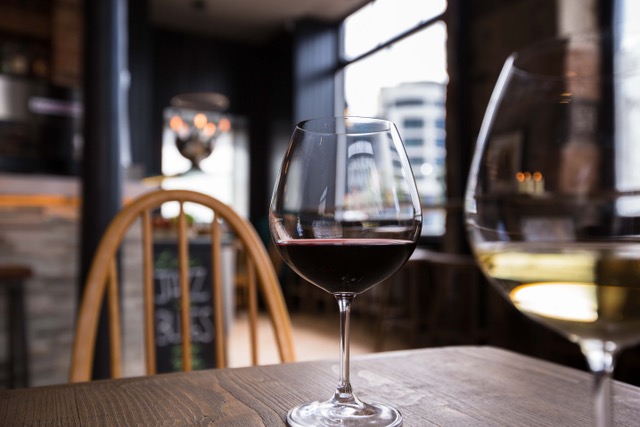 Toast is a new food and drink offering in the Shore. Offering a casual coffee, wine and food experience, Toast will celebrate the pure enjoyment of eating and drinking with friends.
Located in a former art gallery, Toast brings a new and unique café destination to The Shore. With 44 covers inside and 20 outside, Toast will deliver friendly service in a contemporary environment on the banks of the Water of Leith.
Open 7 days from early until late, Toast will serve simple yet imaginative food alongside a carefully-curated, predominantly, biodynamic, organic and natural wine list. Wines can be enjoyed by the glass, or sommelier Seli Shama can create a bespoke tasting menu to suit individual tastes. A tasting room, that will host regular events, is opening at a later date.
Head Chef Lizzie Arber and her team are creating a menu of great-tasting dishes with ingredients sourced from local suppliers. With seasonal produce at the heart of the breakfast, weekend brunch, lunch and evening menus, Toast will be taking well-loved dishes and giving them an exciting new twist. From classic breakfast dishes in the morning to artisanal salads, soups and sourdough sandwiches at lunch, sharing platters and tapas-style plates in the evening, there will be something perfect to choose for any time of the day.
Toast's coffee is sourced from Monmouth Coffee Company, the oldest roaster in Britain. A choice of creative cakes, pasties and breads, including vegan and gluten-free options, are sourced from Quay Commons, Pastry Section and Grams. A hand-picked selection of craft beers sits alongside a short but intriguing cocktail list, devised by Toast's expertly-trained bar staff.
Web: toastleith.co.uk
Hyde & Son 
Hyde & Son coffee bar and lounge has opened its doors on George Street, nestled within Edinburgh's very first design led aparthotel, Eden Locke.
Designed for drinking, discovering, working or relaxing, Hyde & Son seamlessly and carefully balances style with substance.  Open to Eden Locke guests as well as non-residents, the new destination presents a coffee lounge serving first class brews and filter coffees, where the approach is scientific, curious and above all passionate.  Serving third wave, artisan coffee, as well as a range of rare and exclusively sourced teas, the team is led by Head of Coffee, James Wise – currently the 2017 Global Barista Champion.
As well as offering carefully brewed coffees and teas, Hyde & Son serves a carefully curated selection of Scotland's best spirits, local whiskies and a collection of exclusive, craft beers from leading local brewer Harviestoun.  A unique and exciting cocktail menu presents a range of innovative signature coffee-infused cocktails such as the classic Espresso Martini, as well as Coffee Negroni, Coffee Margarita, and specials such as Lavender Bees Knees.  Wines are sourced from around the globe but each of the wines has been created by producers with a passion for their own unique fermentation of the grape to make the finest wines around – served by the glass or bottles.
Web: www.hydeandson.com